AC6000 Lithium-Ion UPS. Born to run. And run. And run.
It's the new AC6000 rackmount UPS with lithium-ion technology. Up to 7 years of battery life with a fast recharge time. 6kW/6kVA of Li-Ion power with up to 6 minutes of runtime at full load. Virtually maintenance-free. Thinner, lighter, and more powerful. The next evolution of UPS technology is here.
It's a better UPS for your data center.
Maximize Uptime, Increase Efficiency
OUT-PERFORM LEAD-ACID UNINTERRUPTIBLE POWER SUPPLY DEVICES
Longer Battery Life. Extended Runtime. Smaller Footprint.
LONGER RUNTIME

guaranteed 6 minutes of runtime at full load

3X LONGER LIFESPAN

7 Years maintenance-free life

75% SMALLER & LIGHTER

than traditional VRLA (Lead Acid) UPS solution

RAPID RECHARGE TIME

1-hour recharge to 90%

30% LONGER CYCLE LIFE

at a given Depth of Discharge (DoD)
INCREASE ROI
Save 8 RU Per Cabinet
Because Rack Space is Money
The AC6000 lithium-ion UPS is designed to utilize less space on power redundancies in server racks.
An efficient, effective, and reliable server rack battery backup solution.
Cut OPEX by 20%
Use less power
Save on shipping & handling
Buy fewer batteries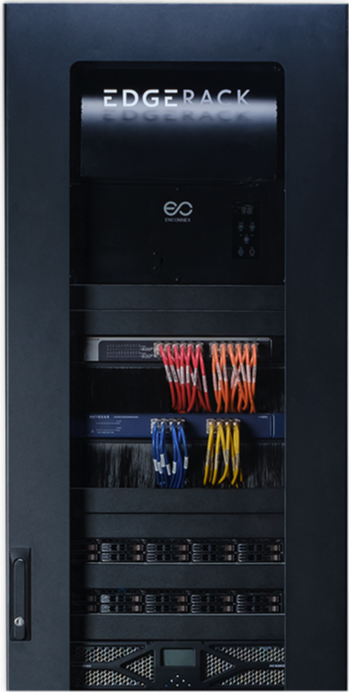 Take Monitoring and Performance Management Remote
Supports Serial & SNMP
Remote HTTP dashboard
Supports IPv4 and IPv6
Multifunction LCD panel
Reports critical performance metrics
WHY ENCONNEX
The Enconnex Difference Innovation. Speed to Market. Scalability.
Enconnex is at the forefront of technological evolution. We build the future of technology one innovation at a time.
Innovation
Our innovations push the IT
Infrastructure industry forward.
Speed to Market
We beat the competition to market
every time.
Scalability
Mass deployment on a global scale
is our specialty.
Voltage Single Phase

208/240 VAC(selectable)

International Voltage

230VAC (selectable)

Frequency

45 -65Hz auto sensing

Capacity

6000 W

AC Current Rating

30A, 32A, 50A

Power Factor

> 0.97

Input Connection (select one)

L6-30P, CS8264/5,
IEC 60309 332C/P6,
or Hardwire
Voltage

Single Phase 208/240 VAC (selectable)

International Voltage

230 VAC (selectable)

Frequency

50/60Hz (selectable)

Topology

Line Interactive

Static Transfer Speed

<10ms

Efficiency

>93%

Rated Current @ 208V

24A with L6-30; 37A with CS8264/5 or hardwire

Overload Capacity

110% for 1 minute

Crest factor

2.1:1 (6kW)

THD in UPS mode Voltage

1.9% Voltage

Voltage Regulation -bypass mode

Maintains voltage range of +/-10%

Step Down Transformer Compatibility

AC6000 is compatible with step down transformers
Battery Type

Lithium-ion 1.0 kW-h

Recharge Time

60 minutes to 90% 120 minutes to 100%

Expected Cycle Life

2000 + cycles (charge - discharge)

Backup Time

6 minutes Full Load (6000W) 12 minutes Half Load (3000W)

Battery Protection

Discharge, Overcharge, Thermal
Surge Energy Rating

215 Joules, Filtering - 1kV Diff; 2kV Comm. Per IEC 61000-4-5 Class A; meets FCC Part 15 Class A
Interface Ports

RS232, Ethernet and REPO Contact Closure

SNMP V2.0, V3.0

Yes - full function status & control

Internet Dashboard

Yes - full function status & control

Control Panel

Multi function LCD status and conditions

Audible Alarm

Audible alarms based on condition

Flash firmware updates

Yes - register upon delivery

Emergency Power Off (EPO)

Yes - N.O. / N.C

Automated Orderly Shut Down

Server side application feature
Dimensions

3.5 (2U) H x 19.0 W x 32.0 D in 8.89 H x 48.26 W x 81.28 D cm

Weight

85 lbs. (shipping weight 105 lbs.)

Color

Black Face, Silver Body

Enclosure

Zinc plated steel, complies with NEMA 1 and UL Type-1
Operating Temperature Range

0° C to 40° C (32° to 104° F)

Storage Temperature Range

-20° C to 60° C (-4° to 140° F

Humidity

0% to 95% Non-Condensing

Heat Generation (BTU/Hr.)

1307

Cooling

Temperature monitored fans - rear exhaust
Regulatory Approvals

UL 1778, UL 991, UL 1998 EN 55032 CISPR 32 FCC Part 15 - Class A IEC 60555.2 IEC 61000-2-2 IEC 61000-3-2, -3 IEC 61000-4-2, -3, -4, -5, -6, -8 EN 62040-1, -2, -3 EU Directive 2014/30/EU UN-DOT 38.3 IEC 62619 IEC 62133-2

Standard Warranty

3 years repair or replacement including battery

Optional Warranty

2 years extension including battery (5 years total)
Enconnex © 2021 All Rights Reserved.